Hunter Valley Private Wine Tours
At Pokolbin Hire Cars we specialise in Wine Tours of the Hunter Valley. Whilst you are welcome to put together your own itinerary (bookings essential for groups 6 and over), we offer a number of great 4, 5, 6 and 8 hour tour packages. We can also tailor packages for large groups or varying time frames depending on your schedule, or why not tie in a tour whilst visiting the Vineyards for a concert or local event....
Please Note: Private tastings have limited time spaces, the earlier you book your tour or advise us to, the more chance you have of going where you wish.
Both Peterson's House & Audrey Wilkinson require you to book & pay for tastings through their websites below:
https://www.petersonhouse.com.au/book-group-tastings/
https://audreywilkinson.rezdy.com/133712/bus-tour-groups-wine-tastings
At Pokolbin Hire Cars we have a close association with many of the Hunter's finest Wineries, and our packages include:
Luxury private transportation

Winery visits & sample tastings

Distillery visit & tasting

Cheese tasting

Knowledgeable chauffeur

A friendly and fun day
6 Hour Tour (Sample)
10.00am Pickup

Your Luxury Executive Sedan, Stretch Limousine or Mini Bus will arrive at your designated accommodation within the Pokolbin Area.
10.05 am Macquariedale Wines


Macquairedale is home to outstanding Shiraz, Cabernet Sauvignon, Merlot, Semillon, Chardonnay, and Verdelho. We also have a small plot of Pinot Noir, which is just coming into maturity. Following our natural winemaking passion, our small sustainable winery specialises in converting small parcels of grapes into the most delicious natural wines available in Australia.
By minimising the high levels of sulphur found in most wines, using wild yeast where possible and eliminating fining agents has lead to wines, which are more reflective of our local terroir. http://www.macquariedale.com.au/
11.05am Gundog Estate - Max 8 people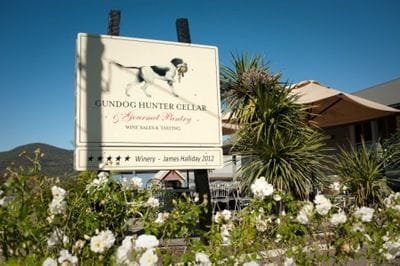 Gundog Estate is a boutique wine producer owned and operated by the Burton family. Their passion for high quality, regionally distinct wine has inspired us to pursue two of Australia's most unique and highly acclaimed wine styles; Hunter Valley Semillon, and Canberra Shiraz. $5 per person refunded with purchase
http://www.gundogestate.com.au/
12.05pm Hunter Distillery - $5 per person refunded with purchase


Hunter Distillery was the first 100% organic distillery in Australia and is still the only organic distillery in the southern hemisphere. Producing Premium Organic Vodkas, as well as a range of Schnapps and Liqueurs. http://www.hunterdistillery.com.au/. $5 per person refunded with purchase
12.30pm Lunch
The Hunter Valley offers a number of beautiful and delicious lunch options. We allocate around 90 minutes for lunch which is at your leisure (and expense), which works in well with the local bistros.
Casual Lunch Dining Options:
Matilda Bay Brewery at the Hunter Valley Resort Mains from $17
Harrigan's Irish Pub Mains from $18
The Potters Hotel Meals from $17
Premium Lunch Dining Options:
Wandin Valley - $30 per person Share plate Menu

The Verandah Restaurant Tapas Menus from $49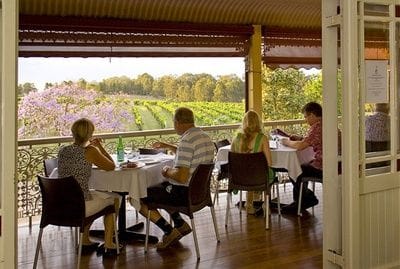 N.B You may wish to allocate a little longer to fully enjoy these restaurants & both can incorporate wine tasting/matching.
At the other end of the scale but still delicious, Hunter Valley Gardens Village has several eateries offering quick meals meaning 1 hour would cover not only lunch but a browse through the boutique shops, also leaving extra time for another winery or perhaps an olive tasting. You can even pack a picnic basket & enjoy the beautiful grounds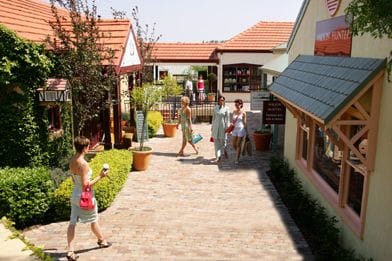 2.00pm Vinden Estate


Established in 1990 by Guy and Sandra Vinden, Vinden Estate Wines is a family-owned, boutique Hunter Valley winery and vineyard with an exceptional reputation among Sydney's top sommelier. Vinden Estate produces small quantities of premium wines on-site, hand-picking grapes using the traditional methods of open fermentation, hand plunging, and basket pressing. Their range of wines includes the Hunter Valley's only Alicante Bouschet (a light dry rosé), as well as the classic Hunter Valley wine varietals of Semillon, Basket Press Shiraz, Verdelho, Chardonnay, Premium Merlot, Late Harvest Dessert Wine and Liquor Semillon. http://www.vindenestate.com.au/
3.00pm The Hunter Valley Smelly Cheese Shop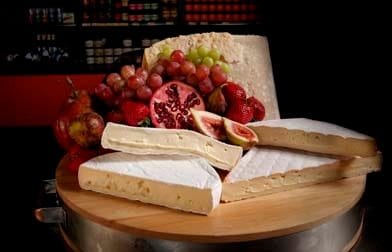 The Hunter Valley Smelly Cheese Shop has the most impressive selection of delicatessen products in the Hunter, offering the finest produce from Australia and overseas. The Cheese Shop caters to all styles of cheeses including Roquefort from France, Gruyere from Switzerland, Gouda from Holland and Red Leicester from England. They are also home to the famous Hunter Valley Gelato Company, featuring traditional Italian Gelato made with imported Italian ingredients and made using 200-year-old recipes. http://smellycheese.net.au/
The Hunter Valley Smelly Cheese Shop along with Meerea Park Wines and Tempus Two are conducting Premium Wine and Cheese Pairing plus Charcuterie.
There are 6 local cheeses, 1 charcuterie, 3 Meerea Park Wines and 4 Tempus Two wines. The wines are a mixture of sparkling, white, red and sweet to satisfy all palates.
Meerea Park Wines has a Halliday 5 Star Winery rating.

The tasting takes between 45 and 60 minutes.
Bookings are essential via calling 02 4998 6713 or emailing info@smellycheese.net.au.

Bookings for 10:30am, 12:30pm and 2:30pm All bookings are $25 per person.
3.30pm Sobel's Winery

Sobel's Winery continues an unbroken, Australian winemaking tradition, now over 150 years old. Jason is a sixth generation winemaker. The pursuit of high quality and distinctive, individual styles of wine are the same today, as 1850's. http://www.sobelswines.com.au/. $5 per person refunded with purchase
4.00pm Tour concludes

** Tasting Fees are paid directly to Cellar Door
*For larger groups we can put together a specific tour but most groups over 15 do incur a tasting fee (usually around $5 which is refunded with any wine purchase).
| | | | | | | | |
| --- | --- | --- | --- | --- | --- | --- | --- |
| Transport Option | Maximum Guests | 3 Hour Tour | 4 Hour Tour | 5 Hour Tour | 6 Hour Tour | 7 Hour Tour | 8 Hour Tour |
| Executive Sedan | 4 | $300 | $380 | $460 | $540 | $620 | $700 |
| Tarago | 7 | $350 | $440 | $530 | $620 | $710 | $800 |
| Stretch Limousine 4 or less passengers | 4 | $480 | $600 | $720 | $840 | $960 | $1080 |
| Stretch Limousine 5 to 9 passengers | 9 | $520 | $655 | $790 | $925 | $1060 | $1195 |
| 13 seat Bus | 13 | $375 | $465 | $555 | $645 | $735 | $825 |
| 20 seat Bus | 20 | $475 | $585 | $695 | $805 | $915 | $1025 |
| 24 seat Bus | 24 | $495 | $615 | $735 | $855 | $975 | $1095 |
| 28 seat Bus | 28 | $500 | $630 | $760 | $890 | $1020 | $1150 |
## Above tour for groups of 11 or less, Larger groups will attend Medium to large cellar doors.
## Tasting Fees paid directly to Cellar door on day or through website beforehand.